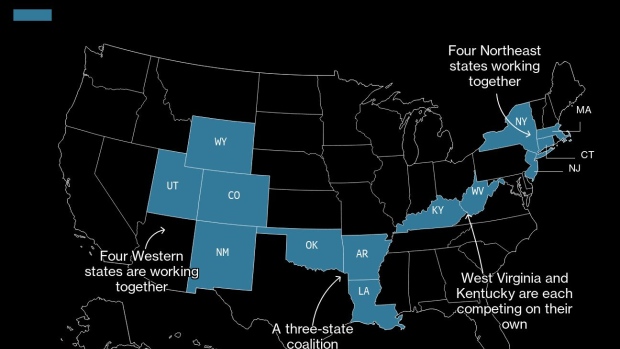 (Bloomberg) — A hydrogen economy that runs factories and power plants on the clean-burning fuel may be years down the road, but that hasn't stopped U.S. states from jockeying for a share of the $8 billion in federal funds earmarked for so-called hydrogen hubs.
President Joe Biden's bipartisan infrastructure plan, which became law in November, includes funding to build at least four hydrogen hubs—places where the gas can be produced and used in a self-reinforcing cycle. Two must be in regions with abundant natural gas reserves, a provision that helped secure backing from U.S. Senator Joe Manchin of West Virginia. The hubs, intended to test different ways to produce and use the gas, are a key piece of Biden's efforts to wean industry off fossil fuels and fight climate change.
Hydrogen is emerging as one of the cleanest options to power industries that typically rely on fossil fuels, since burning the gas can generate electricity without spewing climate-warming carbon dioxide into the atmosphere. Companies worldwide are exploring hydrogen as a fuel for long-haul trucks, factories, trains, ships and even airplanes, though many efforts are in their early stages. Establishing hydrogen hubs could provide the jolt needed for the gas to gain ground in the country.